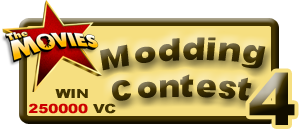 Join the fourth TM Modding Contest on FraasMovies.com
Do you have the best mod and want to win 250000 VC on TMO? Then join the TM Modding Contest!
place 1: 250000 VC
place 2: 100000 VC
place 3: 50000 VC
Make an unique mod for TM, no matter what mod it will be, a new set, a new prop, a costume, an overlay or something else. You can send in as much mods as you like!
The contest starts on June 5th, 2008
Entry deadline is July 15th, 2008
To enter the contest you just have to submit a mod into the Contest Category Nr.4
Login -> click on "Submit File" -> choose the Contest Category Nr.4